– All we do is manufacture the finest pet products. Simple. Comfortable. Premium quality.
– We know how to make products, we have been doing it since 1977.
– Everything is made here in the the USA (Carlsbad, CA).
– Pet comfort, fit, sizing, quality and attention to detail.
– We have 100's of patterns and colors.
– Lifetime guarantee.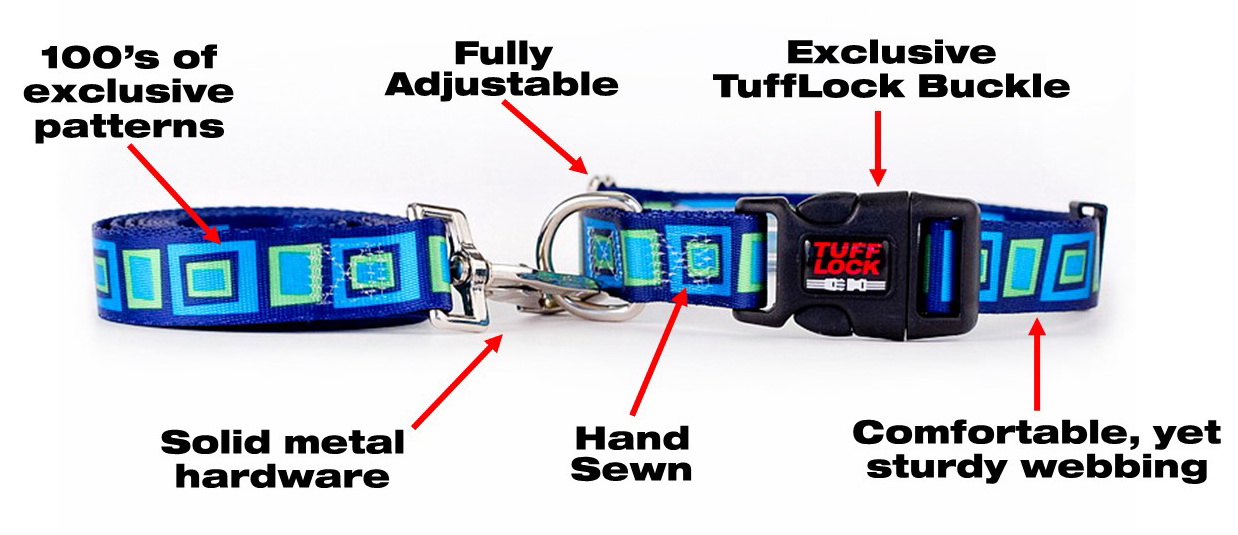 Comfort, fit and quality. This is what really matters to all the dogs out there – contoured buckles, comfortable yet sturdy webbing, and hardware that will withstand wear, weather and rough play. Six fully adjustable collar sizes, multiple leash sizes, multiple harness sizes, etc. are all configured to fit pets of most breeds and are all hand built to last in our Carlsbad, CA factory. We go above and beyond with our raw materials and hardware and "Premium" is what we live and breath. Premium TuffLock products are built to last and withstand the rigors and demands of the most active of pets, while simultaneously looking great.
Hand made in the USA, with the best materials, the best hardware and the greatest assortment of designs is what sets Premium TuffLock apart; especially in terms of quality.
We offer well over 100+ styles and patterns and the assortment continues to grow. We offer solids, checkered solids, modern/classic patterns, reflective, seasonal designs, etc. We offer a selection that is surely to satisfy even the pickiest of dogs and cats. We  offer these patterns across collars, leashes, harnesses, etc. Collars have the option of our original TuffLock plastic buckles or metal buckles and come in sizes Extra Large to Small. We offer a wide range of dog and cat harnesses and leashes also in our huge assortment of patterns.
We manufacture all of our collars and leashes at our Carlsbad, California facility. While maintaining jobs in the U.S., we also maintain full control of quality and composition.  We are proud to say that we are made in the USA and that we have been doing it this way since 1977. We stand behind all of our Premium TuffLock products 100%.  Chewed, broken, etc.?
We have you covered and we are so proud to say that its "Made in the USA".
We want you to be as happy with our products as we are! The dedication of our people to always go the extra mile for our clients shows just that! Contact us for any issues at all and we will make sure you are 100% happy at Premium TuffLock. Shoot us an email or give us a call….we actually answer the phone during our West Coast office hours. We will do what it takes to make sure you are happy.
Our customer service staff is unparalleled.


Lifetime Guarantee – Even if a dog chews it in two.
We are proud to manufacture the finest collars and leashes available and we stand behind our products 100%.
Peace of mind from a superior product:
Accidents happen – and if Fido chews his collar, we will replace it.
Since we have been around since 1977, we aren't going anywhere and our guarantee really means something.
We cover any defects in materials, parts or workmanship. We cover damaged that is caused by the pet during normal use.
We do not cover products that are intentionally damaged, dirty, outgrown or exhibiting normal wear and tear, products that are lost or stolen, or products that are used for something other than your pet.
We replace all items with the same exact item only. Lifetime guarantee does not apply to custom made product and we are only able to ship replacements to the USA.
How to handle a replacement:
Email us for a Return Authorization: returns@premiumtufflock.com
Once we provide your Return Authorization, Simply mail the damaged item to:
Reflex Corporation
1825 Aston Avenue
Carlsbad, CA 92008
We will send out a replacement product as soon as we receive the damaged item.
Please remember to include a note with your name, address and phone number or e-mail address (in case we need to contact you).
Items will be replaced with the same pattern and size.
Lifetime guarantee does not apply to custom products. We reserve the right to refuse service to anyone we feel is taking advantage of the guarantee.
We are only able to ship replacements within the USA.
About Premium Tufflock and Reflex Corporation