The 20 Best Dog Friendly Places to Eat in LA
The 20 Best Dog Friendly Cafes and Restaurants in LA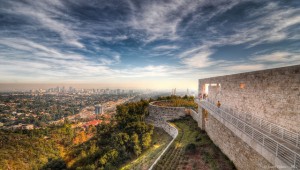 If you've ever owned a dog, you are sure to have felt the pang of guilt as you shut the door on the pleading puppy dog eyes of your best friend. Well, never fear there are places in the city of angels that are accepting of everyone, including those on all fours! Not only is it possible to enjoy a Panini with your pooch but they could be in for a treat as well…
In no particular order, here are the top 20 places to dine with your dog:

If a restaurant has the word dog in their name and are not catering for our four legged friends, it's safe to say they're barking up the wrong tree! Luckily for us dog lovers, this restaurant chain has stepped up to fill this niche market. With comfortable outside areas, free water and the option of feeding your pup a nice meal too, there is little else to be desired. If your pet is able to stick to the rules (no begging, biting and barking) they could be chowing down on a delicious hamburger patty or grilled chicken breast on brown rice for a mere $4.95.
This chic West Hollywood restaurant is inhabited by Dudley the restaurateur's dog, and is happy to share his idyllic spot. Pups can chill in the outdoor area, complete with; fake grass, a quaint water feature and shady spots under olive trees. For the guests holding the wallet, we recommend the 'little gems' salad or a gourmet sandwich for lunch.
'Home' is home of the organic doggy treats and it is the height of fashion for the socialites of the puppy world. There is a large patio for your pooch to stretch its legs on and make some new pals. There is always plenty of water for them to lap-up and shade for the hotter days. For those more concerned with stronger stuff, Home offers great booze deals for brunch and generous helpings of food.

A restaurant that not only tolerates your puppy but caters for it, if the dishes don't delight your dog at The Morrison, they're sure to make you laugh! 'Where's the Beef', 'Cock-a-Doodle-Doo' and 'Franenweinie Bowl' are on the menu but if your furry friend is watching their weight Milk Bone dog treat will suffice.

Terrine is for the dogs with a sense of style; it's the perfect mix of pooches and Prada. Although there is no specific dog menu you don't need to worry about hydration, the staff are more than willing to provide water for you and your pup.

This place was made for dogs, as a meatlovers paradise it is only fitting that the original meatlover's should be invited in. Their menu is stacked with beer and meat based dishes and your little buddy is bound to scrounge some stray bits of burger while there. The patio is nicely shaded and water is provided for dogs.
Almost as much as its famed beer, this brewery prides itself on its doggy day-care theme. They even use the by-products of brewing grain to make delicious treats for your four-legged mate. You might even forget the bar was made for you, until you take a sip of their cool Golden Road beer.
This dog friendly establishment not only caters for dogs that are well loved but also those in need of help; every month they hold a 'Barks, Bubbles and Brews' event that provides funds for the Much Love Animal Rescue charity. Your playful pup is even allowed inside here!

Though this bar may be a bit sizest to dogs, it is welcoming of all humans at least. It's patio can get a little crowded if your dog is of the larger variety, however, for those that gain entry a 'Snickerpoodle' treat and a cool bowl of water is on the cards.
Grub is a small, dog-friendly spot that packs a punch is the flavour department. Their signature dish is the 'Crack Bacon' – enough said, and their tuna melt dish aptly named 'Hooked' because you'll want it everyday after the first mouthful.
The Cat and Fiddle has something to put a smile on everybody's face, providing pooches with slobber-worthy dog-only meals and $4.50 happy hour beers for everyone else! It's outdoor area gets sun well into the evening making it a lovely after work spot.

The fat dog is exactly what the name would lead you to believe! The place is entirely dog themed; everything from the décor to the cocktail list will please the plentiful doggy-loving punters. Your puppy will be extra pleased with you if you stop in at 'Tailwaggers' pet food shop next door and buy them a treat!

If you have a sweet tooth craving but get the 'guilts' about it, why not take your dog out for a walk and stroll on down to Joan's. By taking your dog for a walk to this dog-friendly café you'll be able to enjoy one of their famously delicious deserts, guilt-free. You win, and so does your pup!
This quaint Venice café and bakery offers great coffee and pastries to their local dog-lovers. You can enjoy your tasty treat in their great outdoor dining area. Regulars claim to go there for the comfortable patio and great music!
Known for its wonderful ambiance, you don't have to slum-it with your tail-wagging friend. Vintage Enoteca is known for its international wine selection, great happy hour food and drink deals, and first class customer service.
The Trails is a hip and healthy spot, conveniently located in dog walking destination, Griffith Park. Enjoy the free Wifi, delectable and health conscious treats, all with your best canine friend by your side. Your pup can be entertained by the local squirrels, while you treat yourself to a lavender and vanilla shortbread cookie!
Alcove café is not only the regular pit stop for stars, but also man's best friend! The foliaged and umbrella strewn patio provides a tranquil space for both human and hound customers to enjoy alfredo dining. Although they do not offer any specials for your slobbery friend, their generous portions may lead to doggy bags in the literal sense.
Ammo is a café with a difference, not only do they allow dogs to enjoy their friendly atmosphere but they let the seasons dictate their menu. They have strong relationships with farmers ensuring their produce is as fresh as can be. Their 'farm to table' service is something everybody should experience.
You don't have to leave your furry little friend at home to enjoy M Street Kitchen's famed fish tacos with homemade tortillas! And if tacos aren't your thing M Street Kitchen has a range of rustic taste bud tantalisers and great service.

Enjoy the quiet, relaxed outdoor dining atmosphere of the Daily Dose. This dog friendly café is primarily known for its creative, homemade and delicious sandwiches. We recommend trying The Farmer, The Taylor and The Butcher.
Go forth and make tails wag and mouths water!
https://premiumtufflock.com/wp-content/uploads/2013/04/340x156.png
0
0
Wes Wes
https://premiumtufflock.com/wp-content/uploads/2013/04/340x156.png
Wes Wes
2016-02-18 15:42:17
2016-02-18 15:42:17
The 20 Best Dog Friendly Places to Eat in LA